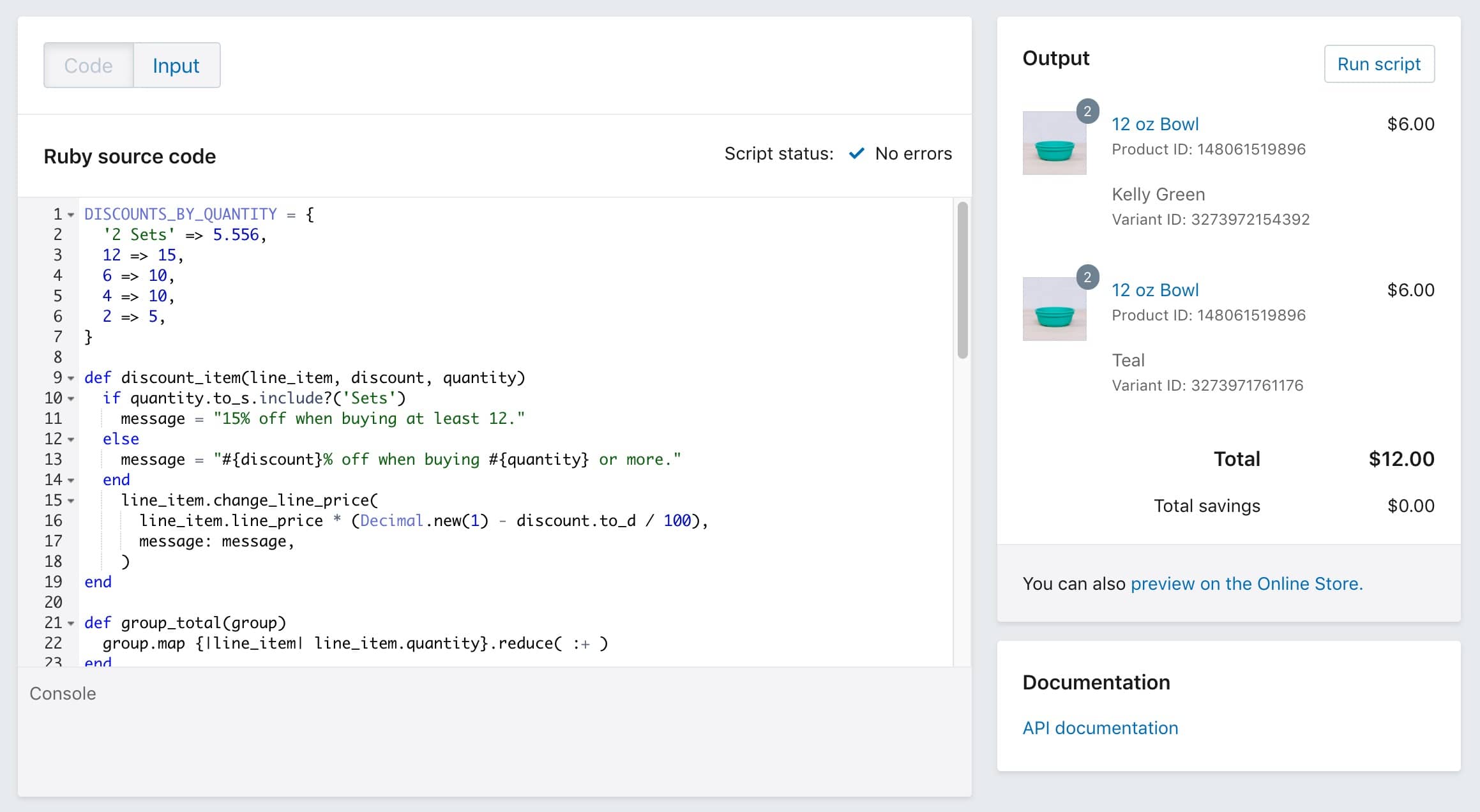 Discount codes in Shopify have greatly improved in the last year, but they sometimes limit a store's options for a promotion or sale. A great example is that while discount codes can offer something like a Buy One, Get One discount, both the qualifying and discounted item must be in the cart for the cart page to even accept the discount code. And maybe the most obvious limitation is that only one discount code can be used per checkout.
Shopify Pricing Scripts in combination with custom javascript in your theme, however, can do almost any promotion you can dream up. And if you're a Shopify Plus store, it's included. Let's go over a few examples of popular pricing scripts.
Buy one specific item, get a free gift
There are variations of this promotion, but essentially you have a qualifying item and once that's in the cart, the option to add a free gift item appears (or the free gift item can automatically be added to the cart). The free gift can be set to only be available as the free gift or it can be any normally purchaseable product that's discounted via the script.
Spend X, get a free gift
Instead of the qualification being a product in the cart, for this script you require the customer spend a certain dollar amount (it's important to not include things like gift cards in that qualifying subtotal, by the way). So, you may say Spend $100, get a free hat. The free gift, again, can only be available for the promotion or can be a normal product that's discounted via the script.
Shipping Scripts
There are actually a lot of ways you can set up shipping scripts. Some stores always have a free shipping threshold and simply have it set up to do so in the shipping settings. But if you're running a promotion or holiday specific shipping rates, using a shipping script is best. Here are a few common ones:
Spend X, get free shipping
Show/Hide shipping options based on subtotal
Show/Hide shipping options based on date - used during the holidays for "guaranteed by Christmas" scenarios
Tiered discounts
There are two ways we see this implemented during holidays, specifically. One is to offer higher discounts for higher cart subtotals. For example, $5 off when you spend $50, $15 off if you spend $100, and $25 off if you spend $150. The other is to offer gift cards for every subtotal tier. $5 gift card for spending $50, $10 gift card for spending $100, $15 gift card for spending $150, etc.
You can also set these to offer discounts based on quantity of an individual product. Buy 1 at regular price, or buy 4 at 10% off, or 8 at 15% off.
Bundles
Buy products X, Y, and Z and get a percentage or dollar discount off. You can also set this up so that customers can buy any product from collection X, collection Y, and collection Z together for a discount. The biggest advantage to using a script for this kind of bundling is you can let the customer customize their bundle completely and you don't have to create pre-bundled products in Shopify, which only cause inventory headaches.
Percentage off site wide (with possible exlusions)
You may just want to do a good old fashioned site-wide sale. There are different opinions on if customers like seeing the products marked down or listed at full price and then marked down in the cart. If you want to do the former, using Shopify's Launchpad app to mark everything down and back up is best. If the latter, generally, an automatic discount code will work best for this. However, if you are a reseller you may sell a brand that restricts you from selling at a discount. If that's the case, a price script may be the best option that can exclude products based on collections, tags, or any other product information.
If you can dream it, scripts can (probably) do it
Every store is different. Your customers are different. These aren't one size fits all scripts. But hopefully they got you thinking about possible promotions you could run in your store using Shopify Scripts. If you have a specific idea of what you want to do, reach out and we'd love to talk to you about it.